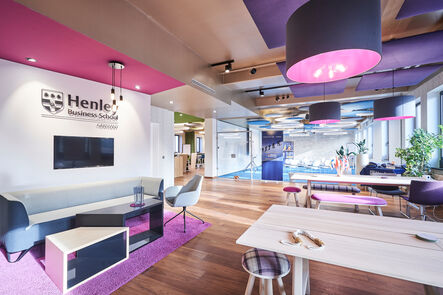 Rent the Munich Campus
The Henley Germany Campus: Where people are creative together.
At Henley Business School, managers and executives develop their key personal skills to be successful in today's dynamic world. They learn to lead teams on an equal footing with agility and trust, living a positive culture in which people can learn from their mistakes and in which the team's existing strengths are made visible and useful.
This development cannot be done in traditional school or seminar rooms. It calls for a room which invites exchange, openness and co-creation with like-minded people.
The Henley Germany Munich campus follows exactly these principles: different places of encounter – a co-working space, group tables, a lecture room and creative space to experiment with a 2m x 8m whiteboard and a flexible room design over 320m2 make it possible to create a stimulating environment that promotes creativity and innovation.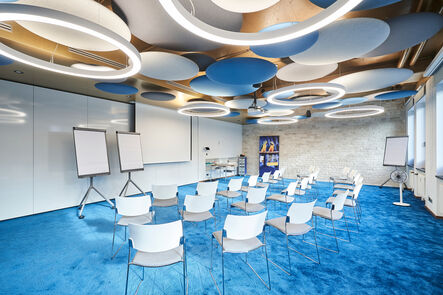 Equipment
Seating for up to 60 persons with own furniture possible
Beamer and screen
Second beamer for the back of the whiteboard wall
2×8m magnetic whiteboard wall (also serves as a partition wall)
Neuland's moderation requirements, including self-adhesive moderation cards for the whiteboard wall
5 flipcharts (incl. paper)
2 Metaplan walls
Presentation technology (sound system incl. microphones)
Side support
All this you can rent for your business!
....and all this without being disturbed by other people such as hotel guests or employees of other companies – on the day of your event, the campus is all yours!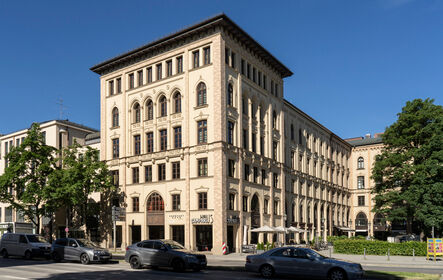 Henley Business School Germany GmbH
Maximilianstraße 40
80539 München
Entrance on Thomas-Wimmer-Ring
S-Bahn: Isartor | U-Bahn: Lehel
Multi-story carpark: Hofbräuhaus