Why Henley?
As one of the UK's first business schools, Henley has been developing leaders for over 70 years. It's not just about developing your professional skillset. Personal development is embedded in all our programmes and it is central to our Executive Global MBA.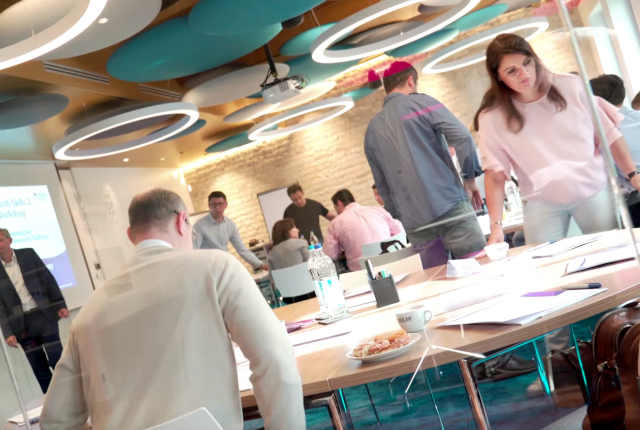 Henley Business School Germany
Our multi-campus approach
Blending cultures, experiences, understanding different view and perspectives is embedded into our programme through our truly diverse and international cohort. We believe it is valuable to learn from not only the course content but each other. Henley has small cohorts comprising individuals from a wide variety of backgrounds and industries for a broad and rich learning experience.
We offer a special and unique learning experience. Your journey starts and ends with the entire European cohort in our Greenlands campus in Henley-on-Thames, UK, set in 30 acres of beautiful parkland and situated on the banks of the River Thames. Many students enjoy strolling by the river, cup of tea in hand, while they reflect on what they're learning. This also where you will celebrate your graduation ceremony in style.
However, for your convenience, circa 50% of your workshops will take place in Germany, in the ideal and comfortable learning environment provided by our lovely modern campus in the heart of downtown Munich. Here the small, local Germany-based cohort meets and works together. There is also a workshop in Copenhagen and 2 international study trips to South Africa and either the U.S. or China.
At Henley, you'll become a member of our community from day one. Community and collaboration are key to everything we do, and we're known for our 'syndicate' method of study. This is a form of group learning that encourages students to draw from and reflect upon each other's insights.
Our support
Personal and professional development is woven into the fabric of the Henley MBA. We were one of the first pioneers to embed personal development in our Executive MBA, building in space to reflect on personal values and goals, and it remains a cornerstone of our programme to this day. We take a whole-person approach which acknowledges the complexity of balancing work, home, study and career. You will have access to experienced coaches, and will receive valuable careers, leadership and professional development as part of the course to help you build your network, deepen your knowledge and meet both personal and career goals.
We empower individuals to become great professionals and outstanding business leaders who think with clarity and act with confidence and conviction. Our strength lies in our approach. We enable people to understand themselves and their responsibilities while at the same time blending the practice and theory of successful business. We offer the opportunity to live, breathe, practise and create business.
The Environment
The programme delivery is a balanced combination of interactive workshops and guided on-line learning resources. Interactive workshops are delivered in a board-room style seminar room to facilitate group work and discussion. Each module follows a learning pathway guiding participants in pre-workshop reading and preparation, workshop materials, and post-workshop learning application and assessment. Resources include the Henley Business School virtual Library that holds books, journals, market research reports, dissertations, working papers and company information.
Our Alumni network
The benefits of studying at Henley Business School don't stop after you graduate. From Day 1 you join the alumni association where you'll become part of our vibrant alumni network of more than 80,000 business professionals in 160 countries. Your cohort and cohorts from previous years are likely to form the most valuable network throughout your career, a unique resource that will help build and support your career path. There are regional and international alumni groups and Special Interest Groups providing a priceless series of events, mentoring programmes, career advice, and industry contacts and information. Be part of our community, join thousands of alumni on our new online platform: Henley Live.
Our Accreditations
The UK, European and US accrediting bodies (AMBA, EQUIS and AACSB) have assessed the impact of our MBA courses, and with our triple-accredited status, the Henley MBA is not only challenging, stimulating and relevant, but in many instances, it is life-changing.