25/26 June 2020: Henley in Hamburg
Three of our programmes are soon also available in Hamburg!
Over the past two days, and for the first time, Henley Business School Germany GmbH organized two outstanding events in the Hanseatic Metropole. Hosted by its business partner in Hamburg, the Business Club Hamburg (BCH), Henley brought to life two hybrid events with audiences on-site as well as online, proving that it is ready and able to deliver high-end content to a variety of audiences at the same time.
On 25 June, Ole Petter Anfinsen, Henley DBA candidate and owner of Anfinsen Executive Health and Performance (AEHP), captivated our audience with his lecture on 'Becoming the CEO of yourself'. Speaking about the importance of a holistic approach to mental and physical well-being, Mr. Anfinsen pointed out pillars to personal and professional success, namely self-discipline, self-management and resilience.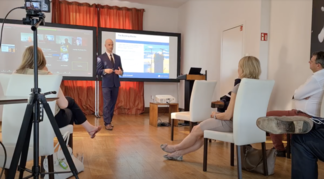 He shared with the audience the essence of his current research as well as practical examples on how to make success a habit. With participants from Hamburg as well as from all over Germany via Zoomlink the session proved to be a wonderful experience and culminated in a rich discussion over light evening refreshments afterwards. Our sincere thanks go to Mr. Anfinsen for sharing his impressive body of research, our partners from the BCH and of course our audiences on-site and online for a lively exchange. Henley Germany will be launching its new certificate in leadership programme, as well as the Executive MBA Global from Hamburg as of spring 2021.
On 26 June, the director of the Henley Centre for Coaching, Professor Jonathan Passmore delivered a thought-provoking lecture on 'The Leader Coach', showcasing coaching techniques for leaders and managers. Professor Passmore, having earlier written an article for the BCH club! Magazine, inspired our hybrid audience with relatable scenarios and practical coaching tips to engage staff and co-workers in more productive ways. Building on newest insights from research, he introduced several coaching mechanisms and animated the audience with group discussions to share experiences and views amongst each other. Following the interesting lecture, the mixed audience engaged in a lively discussion, pondering also post-COVID leadership and coaching developments.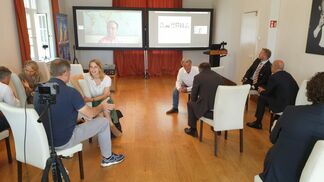 New leadership skills will be in high demand to maneuver the road to organizational rebuilding after the crisis. An inclusive approach to managing resources, by means of, for example, coaching practices might be a good way to start. Henley Germany would like to thank Professor Jonathan Passmore, the Henley Centre for Coaching, the BCH and its audiences both on-site and online for a wonderful business breakfast on this Friday morning. Henley Germany will be launching its first Professional Certificate in Executive Coaching in September 2020 in Hamburg.
Overall, the past two days have been very successful for Henley Germany. It was truly enjoyable to hold blended events and also engage with an audience on-site again.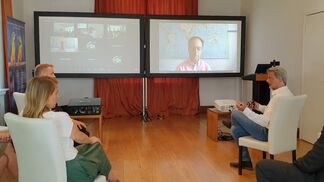 The Henley Business School team in Germany, consisting of director Christoph Raudonat, director of operations Dr. Thomas Kunze, Director of Coaching Programmes Ragna Kirberg, and Digital Communications consultant Alexander Müller, extends its thanks to the Henley Alumni in Germany, especially Ms Doerthe Ramin as Chapter Lead Germany in the Henley International Alumni Board, for their support in leading up to these two days. With the kick-off of a separate programming cycle in Hamburg, Henley Business School in Germany is gaining further momentum and a considerable increase in interest in Henley's world-renowned flagship programmes.
Also the strong support and gracious hosting by the BCH, and, in particular Mr Peter Stoffel, Managing Director, and Mrs Verena Maychrzak, Events Manager, is something that the Henley Germany team is truly grateful for. We look forward to a prosperous business relationship and many more events and workshops in Hamburg in the future.
On offer in Hamburg:
All programmes are, of course, also available in our Munich campus. In addition, the Henley MSc in Coaching and Behavioural Change as well as the Henley DBA, both taught in our main campus in Henley-on-Thames, are accessible also via the Henley Germany office. Please contact us for more details.