Director's Thoughts – October 2020
Returning to normal bit by bit
It is Back to School at Henley Business School. In September, the team of our coaching programmes successfully launched the first full intake in our location at the Business Club Hamburg. Applications proved so successful that our admissions had to close the intake at the maximum number for this particular course and divert further applicants to the next intake in March. This is a sign of great success none of us would have ever dreamt of. Henley in Germany are thus planning the next intake for larger capacities to answer to this increased demand of short-term qualification certifications.
Similarly, current recruitment for the Executive MBA intakes is focussing on March 2021 with a record number in leads generated over the last weeks and months. COVID-19 had a serious impact on the Henley flagship programme with numbers decreasing all over for the October 2020 intake, however, current market trends show that young professionals are considering also more substantive degree programmes and 2021 appears to be a year of investing in quality education. Henley in Germany wishes to thank at this point its alumni community for their support and dedication and helping us to position the school in the German market appropriately and with a future.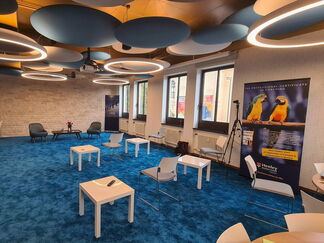 Speaking of COVID-19, respectively post-pandemic trends at our school, all of Henley's campuses are opening again. In Munich we have put in place a rigorous regime of hand sanitisers, face shields and masks, and redesigned the interior to allow for social distancing during workshops and MasterClasses. We have also started to host our first events again back on campus in Munich as well as in Hamburg, always supported by our great investment in video technology to give our audiences the option to stay at home and not having to miss out on anything.
Similarly, in the UK, in our Greenlands facility, courses are resuming on campus again, bearing in mind social distancing rules and hygiene requirements. We are proud and happy that life is returning into the halls of Henley and are grateful to the hard work of all Henley staff for making this possible.
In particular for our programmes with delivery at our Greenlands campus this means that we are almost at business as usual again and travel between all the relevant countries is allowed without the necessity for quarantine at the time of writing this article. While intercontinental travel (f.ex. on the Executive MBA programme) is still restricted, Henley are working hard to deliver comparable experiences, respectively rerouting some of the trips to other, equally exciting destinations. Most importantly, however, we all observe the respective country's rules and regulations and will also take into account personal concerns when it comes to delivering our content.
A new website has also been launched in September to offer our communities easy navigation and easy discovery via search engines as well. This was important to increase the likelihood to be found online by potential clients and we are confident that with a layout closer to the Henley corporate design we all will enjoy our online appearance and access to information with increased success in the future.
Please check especially our events pages regularly for updates on workshops and MasterClasses in the near future. Henley Germany is currently in the lead of hybrid delivery of content and our future sessions will always contain an online component to support high-quality content with excellence in technology and facilitation across German and international audiences.
This brings me to the main part of this segment: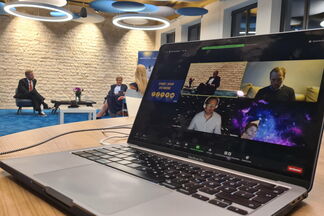 Compassionate leadership
On Thursday 11 September Henley in Germany held a MasterClass delivered by Prof. Ben Laker and facilitated by Henley alumnus Armin Rau in hybrid format. We welcomed an audience on-site in our Munich campus and participants online, with also Prof. Ben Laker delivering his presentation from the comfort of his own office. The recording of the session will be available on our website shortly. Inspiring for us all was that current research has shown that showing compassion, especially in times of crisis, increases productivity by a considerable margin of up to 20%. The discussion arising after the lecture uncovered thought-provoking business practices in some countries, f.ex. allowing some employers to install surveillance software on employees' computers to check up on them at given intervals, measure typing rates, and other practices to ensure that productivity remained at a certain level. Anyone having studied at Henley (and beyond) will know that such practices, while definitely legal in some countries even in the EU, are hopelessly outdated, showing low levels of trust within the organisations and management practices that rely on employee presence rather than actual productivity. In a short poll around the room and online, participants shared that practices in Germany are rather compassionate compared to other countries. Leaders and team-mates regularly check in with each other and are genuinely concerned about the well-being of their workers and staff.
Here is something for you to think about and do:
We have prepared a short 10-question survey on compassionate leadership. If you like, please give us your impressions completely anonymously and share your thoughts. We would publish the results with the Henley community and compare them also to other countries where we have collected similar data. The purpose of the research is to find out how we practice compassion in work situations and management practices in our daily routines.
You can access the survey here.
We look forward to hearing from you!
Last but not least I would like to draw your attention to our upcoming programmes: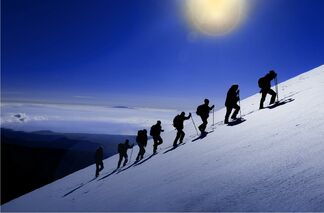 The Executive MBA intake for Spring 2021 in Munich is already filling up. For this purpose, Henley in Germany is currently launching a series of events in the coming weeks and months that should be of interest not only to potentially new clients but also our experienced Henley community in Germany and abroad. We would like to invite all of you to attend and join the discussions. Alumni are always welcome to also join our MBA campfires and provide insights into their experiences during and after the programmes, the impact that the programme had on themselves and their careers.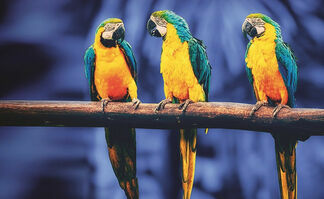 The same applies for our Professional Certificate in Executive Coaching (PCEC). Regular events are what keeps the community going and the upcoming German cohorts in Munich and Hamburg see very positive participant numbers. For 2021 the plan is to launch 2 cohorts in Munich and another 2 cohorts in Hamburg. There are thus plenty of opportunities to enjoy world-class professional education for anyone that aspires to become a coach or integrate a coaching approach into their business practice. The Henley Ecclectic Model provides a wide range of coaching tools and techniques already at the certificate level and the link with the International Coaching Federation (ICF), the Gold-standard in coaching worldwide, ensures that our programme truly is of global standard and a sound education.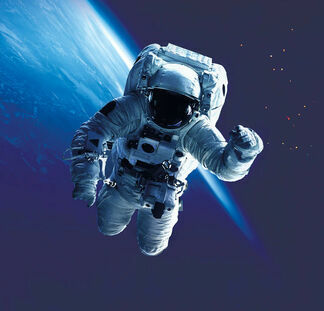 The third programme that Henley is launching in Germany in 2021 is the Post-Graduate Certificate in Leadership. This certificate programmes is the first stage of the MA in Leadership, one of Henley's most sought-after programmes for senior leaders and professionals that may already have an MBA and wish to deepen their leadership approaches and skills at a more experienced and senior level. This programme is particularly targeted at senior leaders within organisations and will be offered once per year with an intake each in Munich and Hamburg. At this stage, to help us target this programme even further, we are in parallel trying to find out more about particular needs in the German market.
Here is something for you to think about and do:
Please take a few minutes to fill in this short survey. It is completely anonymous and the data generated will help us position the PG Certificate in Leadership with more focus in the German market (bespoke elective modules, what should lecturers bear in mind when delivering the content, what is special in Germany when we think about leadership, etc.). Your input is highly appreciated.
For the survey, please click here:
Last but not least: news from our alumni in Germany. After COVID-19 concerns forced us to rethink our Great Minds event originally foreseen for October, the Henley alumni in charge have decided to move the date into March 2021. Everyone that has already pre-registered will be notified and we will open ticket sales for the Spring event shortly. We thank all the alumni that have put in a lot of energy in order for this event to take place and also our sponsors and supporters for their efforts to make this a success.
This is it for this time.
We hope you will enjoy the news in this edition of Henley @ Home and should you have any content you wish to share, please do get in touch with our team. We look very much forward to seeing many of you again soon at an event, online or onsite, in the Henley spirit!
The Henley team